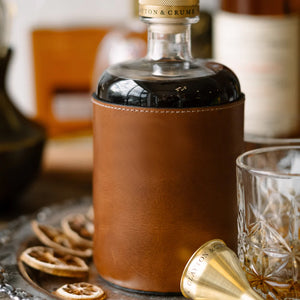 Introducing The Original Leather Decanter, crafted with English Saddle Full-grain leather wrapping a 750 ml full-bodied glass bottle, a sturdy synthetic cork for an airtight seal, and a weighted solid-brass cap and funnel for a heavy finish.
The Original Leather Decanter boasts English Saddle, full-grain leather wrapping securely around 750 ml of full-bodied, break-resistant glass.
The detailed knurling offers a unique, yet highly functional component to the decanter - built for easy grip to open and close.
Dimensions: 750ml, 4" Diameter x Height 7.875"