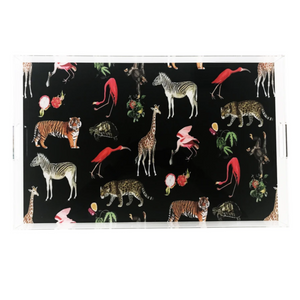 A modern Animalia pattern inspired by Lynn Chase's china patterns such as Jaguar Jungle.
Nicolette Mayer is a lifestyle brand that includes wallpaper, murals, fabric and Art de la Table such as placemats and acrylic trays. The design philosophy combines timeless elegance with modern edgy chic. Modern Design, Impeccable Materials; Unparalleled Craftsmanship. Chic modern beauty with simple elegance. Indoor/Outdoor, Hand cut, assembled and polished, Polished Edges, Etched Logo, Made in the USA.

Dimensions: 22.5X14.5"