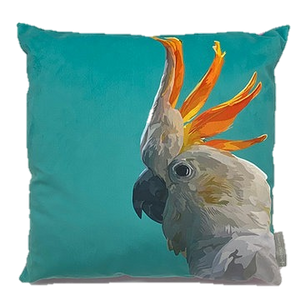 This cockatoo illustration stands out against the aqua background. Bring a little of color and celebrate the beauty of nature in your home. This is a unique statement piece for all those who love color and want to be bold in their interior design.

Printing Method: Digital Material: 100% Poly Velvet, Care: Machine Washable Zip Fastening Feather Inner Included Hand Drawn and Printed in the UK

Dimensions: 17.7" x 17.7"