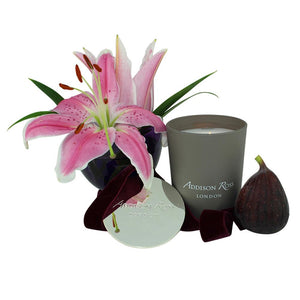 Mandarin, Fig & 
Orange Blossom
A rich, dark fragrance reminiscent of an exotic Parisian nightclub, this fragrance has top notes of Bergamot, Mandarin and Green Leaf, mid notes of Fig, Orange Blossom, Oleander and Lily, and base notes of Cedar and Musk.
Packaged dimension is 8.2cm x 10.3cm x 8.2cm. Weight 190g
Burn time 40 hours. Snip candle wick after use.