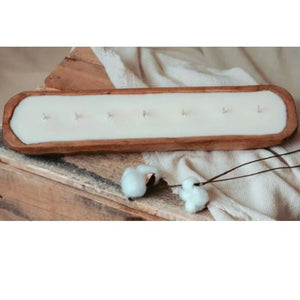 Hand Carved Dough Bowls are perfect for any décor style. These candles are strongly scented and made to scent a room without even lighting. Since these are hand carved, no two bowls are alike in appearance creating a truly unique product each and every time. Since we only use 100% soy wax with no blends (including paraffin), the wax will break down with hot water and soap to enjoy the dough bowl easily once your candle has burned.
Made in United States of America
Dimensions: Average size is 20" L X 4" W X 2" H.