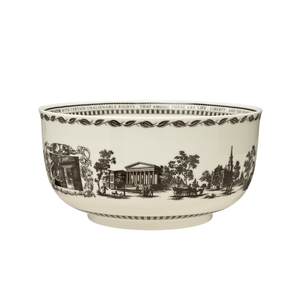 The Liberty Bowl has been recently Made Exclusively for Hamilton Jewelers.

The inside of the Liberty bowl shows the Signing of the Declaration of Independence. The inside rim says : We Hold These Truths To Be Self-Evident: That All Men Are Created Equal: That They Are Endowed By Their Creator With Certain Unalienable Rights; That Among These Are Life , Liberty and the Pursuit of Happiness.

The outside of the bowl displays: The Liberty Bell, The First US Bank, Christ Church, Merchants Exchange, Carpenters Hall, University of Pennsylvania, Congress Hall and Betsy Ross House. Expresso-brown 6 inch round base sold separately $175.
Dimensions:
9 ¾" D

4 7/8" H
5 ½" D (Base)